But what if…
One pillar of The Predicta Project is the creation of a series of phantom kits that will speculate on possible kits that could have been produced by Monogram Models if only different marketing decisions have been made.  These phantom kits will range from a fully-detailed kit that could have been produced as a halo kit to compete with Johan's Turbine car model, to a slot car (every other Monogram 1/24 static model was turned into a slot car), to an 1/8 scale model — the Big Predicta — that might have joined the large scale hot rods that, interestingly, Darryl Starbird also designed (he also built an actual Big Deuce and Big T for Monogram Models).  Finally, what if Darryl had been approached by the Ford Motor Company with an invitation to restyle, re-build and re-fit the Predicta so that it could join the Ford Division's famed Custom Car Caravan?  What influence might the refitted Predicta have had if it had sat next to the famed Thunderbird Italien at Detroit's Cobo Hall?
This part of The Predicta Project will involve significant design and historic speculation — invoking the storied history of Monogram Models in the halcyon days of the early Sixties — had America's second largest car manufacturer carried into fact it's intentions to create high end and diverse versions of its greatest selling kit.  Feed from the actual course of events, but closely tethered to aspirational corporate plans that Roger Harney once told me the company had intended to pursue but for budgetary concerns from the notoriously conservative chief corporate officers.
Please walk through the following descriptions and let yourself float back in time to 1963-64 and imagine what might have been.
First Kit: Second version of the car, circa late 1961.
What if Monogram had approached Starbird earlier than it did, and had decided to offer a kit of the car during the height of its second-version glory — without asking Starbird to re-style the car as the company did in 1963? As part of Monogram's era in which the epochal 1930/34/36 Fords, the 1940 Ford pickup kit, and the 1955 Chevy kit were issued, the first version of the Predicta kit could have been an obvious part of the Monogram Custom Car Lot program.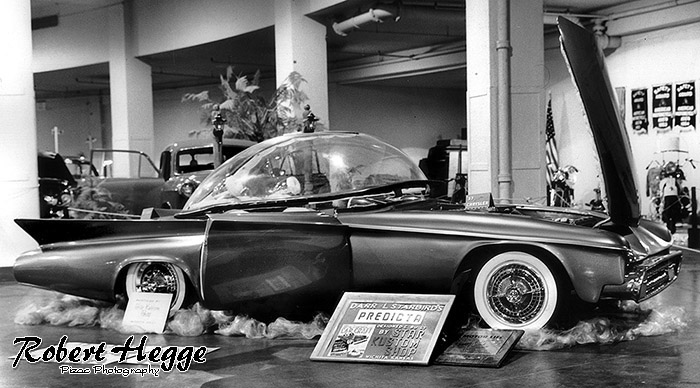 The box art will show the car against a background "lifted" from the setting of the 1961 Midwest car shows in which the Predicta was presented. Since it isn't likely that a photo of the car would have been featured (in fact, from that era, only the Predicta and the Futurista were depicted on Monogram boxes as photographs), I'll commission Brad Leisure to create four-color artwork that will appear on the box lid and the full instruction sheet. We're going to create a full-on "kit" of this model including instruction sheet, the kit parts (mimicking sprues), the box lid art and so forth (the kit parts will be painted to mimic the brilliant Monogram plastic from this age).
 Theme and history
In this phantom history, Monogram's Jack Besser and Bob Reder approached Starbird in late 1961 about issuing a kit of the Predicta which would have been added to the company's Custom Car Lot program. Already the company's designated custom car consultant, Darryl had designed custom elements for several of Monogram's model car kits in the very early Sixties. In this alternative universe, what if Monogram had approached Starbird about issuing kit of the Predicta in the early Fall of 1962, during the height of its second-version glory, and did NOT ask Starbird to re-style the car for the kit?
The kit
We'll create a full-on "what if" kit that could have been issued in early Fall of 1962 that would have mimicked the presentation of the then-popular Monogram car kits (the 1940 Ford pickup, the 1955 Chevy, the 1930/34/36 Fords, the 1955 Chevy) complete with all body parts (painted a suitable high-gloss blue to simulate Monogram plastic of the era), a complete range of mechanical and interior parts, a full instruction sheet based on the style of the 1962-era PC-prefix Monogram kit style, new decals, and fresh box art. The kit will not feature opening doors, or other "enhanced detail" features not found in the official 1964 Monogram kit; rather, it will simply present the 1962 version of the car in this fanciful kit. Important note: this body will be based upon the "accurized" 1964 kit (see: "Second Kit" section, below) but back-engineered (in terms of the wheel well shapes, bubble top design, grille work, etc.) to depict the 1962 version of the car. This kit will feature resin-cast parts arranged to present a complete "faux" kit with parts on runners, "chrome" parts and all other required bits that would have permitted a 1962 modeler to have built the version of the Predicta seen on the box lid.
The faux kit will offer "customizing" options: wheels/tires, interior and grille work, as well as front and rear grille options — body customizing only offered in two other Monogram kits (the 1940 Ford Pickup and the 1955 Chevy). The HEMI engine will be presented in its second (4-carb) version. These customizing parts and styling options will be presented, in the instruction sheet, as if suggested by Starbird, and will include some of the changes that he made when he restyled the car for the "real" 1964-era car.  All changes will be noted on a full-on instruction sheet.
Second Kit: "Halo" 1964 Kit
Theme and history
Roger Harney told me, in the late Eighties, that Monogram had initially planned to offer a much more realistic/detailed kit that of the Predicta that would have featured two opening doors, more comprehensive details of the Hemi engine and the Torqueflite transmission, correctly detailed suspension and steering gear, and other details. Well, what if such a kit had been offered – what would it have been like? We'll answer this question by creating a fictional kit — the kit that was might have been produced except for the at-the-time 1963 budgetary crunch.
Kit:  This "kit that never was" will be centered around a corrected body — the Monogram body is inaccurate in several ways as we've learned. This Project has gathered the information on how to build a corrected body which will be reflected in the creation of an authentic kit. This revised kit — containing parts and details that might have been offered to hobbyists in 1964, but weren't — will be based upon an accurate kit body as well as presenting a few operational parts and other details that could have been found in a more comprehensively detailed kit.
In this alternative world, Monogram would have decided to surpass in detail and accuracy Johan's then-pending Turbine kit which rumors had described as the greatest kit ever. Not to be outdone, Reder and Harney would have pulled out the stops and offered a kit to which the Turbine car kit would not have been favorably compared. Monogram's contractual and "cultural" connection to Starbird would easily have had more "pull" with the model car hobby.
To keep within the theme of creating a phantom but entirely plausible 1964 kit, no feature or detail that couldn't have been produced in1964 will be part of this kit; otherwise, we will not have created a convincing, if phantom, artifact from the past.
With the body shape and dimensions corrected, I'm going to add a host of details that could have been offered in 1964 had there been a budget to do so. Supplementary features will include many additional parts mastered to portray the innovative Ford/Chrysler hybrid steering set up and a better-represented Hemi engine (based upon the AMT'57 Chrysler kit) and Chrysler TorqueFlite auto transmission will be included in the kit. Care will be taken to only add parts that could have been offered in 1963/64.
Enhanced Predicta Kit Features:
Opening doors with appropriate door jamb details;
Improved steering and suspension details including articulated upper and lower control arms, coil springs, shock and steering hookup systems (tie rods, idler arm, etc.);'
Engine compartment details to include detailed gauges mounted on the driver's side of the front wheel shroud;
Under hood detail structural detail (separate piece), and hinges;
Tiller steering accurately portrayed, but front wheels will not steer;
More detailed HEMI engine and present options for the two different engines of this era (Hillborn fuel injection);
Other mechanical/drive train parts including rear suspension elements, gas tank and the like;
Enhanced front and rear grille details and lights;'
Interior detail: more detailed TV screen and controls, console gauges, gas fill tube behind the seats, etc.;
Separate frame and underbody platform; and
An accessory vintage lighting kit (headlights, taillights, TV screen, gauges. Monogram once offered an accessory lighting kit for model car builders and we will mimic that).
Box Art: We're going to pick up on the theme of an enhanced 1964-era kit and create a new box that will feature fresh artwork from Bob Wick done in a theme and style found in the 1964 kit. This new box art will be futuristic in nature and will feature futuristic architectural design also found on the slot car box lid.
Or, perhaps we'll choose for the box art another venue to suggest where a futuristic kit would be seen — perhaps the famed Guggenheim Museum in New York or Wright's Falling Water home.
Promotional Model/Hobby Store Promotional Display: We'll build a what-if Monogram factory display model from our faux kit (showing all of the details of this enhanced kit, but built only from our kit parts — no added "contest detail") that Monogram would have sent out to the hobby shops to place atop the specially-created display stand that Monogram regularly provided to hobby shops in the Sixties. Of course, we'll also recreate the accompanying Monogram-supplied hobby shop display stand that, this time, will exhibit the enhanced features of this "kit that never was" with the sides on the stand showing restaged photo subjects and angles mimicking those images that appeared on the original kit: this time each picture will depict the greater detail of this phantom kit.
Additional Models: based upon the parts in the Halo Kit, we're going to build two versions: The first model will be a fully-detailed "contest" model with full wiring and plumbing, a full range of decals, and possibly operational lights. The second model will be a partially-built version of the car to be placed in a diorama of Darryl's shop circa late 1962: body off the frame, fully-outfitted frame with all detail, and the like.
Third Kit: Predicta Slot Car!
One of the key elements in the Monogram product line in the early to mid-Sixties were 1/24-scale slot cars.  Based upon the static kits, even the famed Duensenberg kit was turned into a slot car!  Just imagine!
Well, we're going to do what Monogram never did – we're going to speculate on what a Monogram slot car might have been like had Messrs. Besser and Reder instructed Roger Harney to develop such a kit.  We're now adding this element to the Predicta Project because we now have sufficient research on those slot car kits to go forward. We're going to add a Predicta lot car kit to the line-up of faux kits from that era. Go here and read the new text just before the "Big Predicta" kit discussion.
Theme/History:
Roger Harney once told me that Monogram also briefly considered doing a 1/24 slot racing kit of the Predicta in late 1964 to join other slot cars the company offered that were also static kits (e.g., the '58 Thunderbird, '34 and '36 Ford coupes, a Mercedes, and a Duensenberg).  That's too great a story to leave alone, so we're going to take the step that Monogram never did: We're not only going to create the Predicta slot car that was once planned, but the body will use the corrected/enhanced body that we'll be using for the Enhanced 1964 "halo" kit.  And, we're going to take it one step further and an ultra-detailed scale version of the car to make the Predicta slot car more than a cartoon.  This model will have a detailed engine, opening doors and other realistic details so that this slot car is, in fact, a scale miniature of the real car.
Kit:
The Predicta body would be based upon the original (1964) issue of the Predicta kit. An unbuilt Monogram 1/24 '58 T-Bird slot kit will be used as a template to produce this "what-if" kit. We'll cue off the 'Bird kit (box art, motifs, fonts) for period-correct graphics, language, instruction sheet, presentation idioms. That kit will provide some parts for this phantom slot car kit – this slot car kit will have the same "aspirational" goal and details as does the 1964 enhanced (static) kit.  Whitewall tires, machined/plated reversed rims, half-height and related parts, including a bust of Starbird back in the day, will be fabricated to produce a model at a much level of authentic detail than offered in 1964.
Box Art:
We'll use a 1964 Monogram-era regular static kit illustration of the Predicta as the basis for the box art illustration adapted to slot car kit motifs from the 1958 T-Bird kit. This "what-if"' Predicta slot car will be featured on the kit box lid in a futuristic road course setting with a similar layout idioms of other 1/24 scale Monogram slot cars of the era.
Ephemera:
We're going to go beyond the full-range kit to include revised adverts, kit instructions, special decals, and other items that could have been used in 1964 to market this kit.
Using only mid-Sixties Monogram slot car parts (track, etc.), create a small vignette of the mountain road scene at some point in the future.
We'll also revise some historic Monogram slot car ads from that era to include the faux Predicta slot car kit.
Fourth Kit: The Big Predicta
Theme and history
Inevitably, we're considering doing a 1/8 scale "Big Predicta" to mimic the incredible range of 1/8 scale kits that Monogram offered in the early-to-mid Sixties.  Those kits included the Big T (made into a full-scale car by Starbird), the Big Rod, Big Drag, Big Tub, Big Deuce, Big Jaguar and Big TransAm.  Our Big Predicta will feature a 3-D printed body using a digital file taken from the corrected 1/24 scale Predicta body.
These 1/8 scale vintage American hot rod kits by Monogram were of extraordinary quality and accuracy. We're going to pick up the artistic styles, fonts, box lid layout and the like for the Big Predicta.
How We'll Build the Body
Because we'll need at least three of all of the parts for this full-on kit (one to photograph for the box lid, one for me to build out as the ultimate 1/8-scale model, and a complimentary kit for Darryl Starbird), it's isn't realistic to think that we'll be able to scratch build three accurate, matching bodies and parts for this kit.
Therefore, we're going to take advantage of the new 3-D printing to create three sets of matching parts for three complete kits.  This kit will be created through the newly revolutionary 3-D printing.  In short, we're going to laser scan the corrected 1/24 body (discussed elsewhere on this site), enlarge those files three times to get to 1/8 scale, and then 3-D print the body. Another example: I'm going to buy an original unbuilt, now-legendary, Aurora 1/16 Hemi engine kit (widely regarded to be the best scale Hemi kit ever created), scan it and then enlarge each part by twice, and then "print" the entire Hemi engine.  Other parts will be scratch-built (e.g., I'm going to hire a hobby machinist to machine an accurate wheel and then we'll scan that part and print multiple copies of the same). I'll also accurize the old AMT 1/16 scale '55 Thunderbird frame and then we'll scan and print it also after digitally enlarging it to 1/8 scale. Since no kit has ever presented accurate upper and lower control arms for a first-gen Thunderbird, I'm going to borrow or purchase a set, laser scan those parts, and then "print" those parts also.
In this way, we can create multiple, 1/8 scale, matching parts via 3-D printing so that an exhaustively complete kit can be produced — after all, Monogram could have offered much more detail than it did on its other early large scale hot rods — check out the Big Deuce kit which offered much more detail than the Big T-based kits did.
Kit
It will be a full-on kit with all parts on hand to build a complete Predicta with all detail — based on the assumption that Monogram wanted to create a large-scale kit with even more detail than it did on the Big Deuce kit.  Emboldened by the faux-1/24 "enhanced" kit described earlier on this page, in our faux history, Monogram decided to step off the smaller scale kit and pantograph three-time larger parts (with even more additional detail both possible and required in a kit of this scale) to include the body with opening doors (full door jamb, latch detail, etc.)/opening hood (with full underhood detail and latches), frame, articulated front suspension, wheels and tires, all engine parts, transmission, wheels/brakes/tires, the remarkable steering system and all interior parts. Because the Big Deuce featured operating lights, our Big Predicta kit will do the same thing. And we'll offer customizing optional parts. All of these parts will be "sprued," too: We'll "fake" these sprues because these parts won't come out of injection molds, of course.
Of course, we'll also prepare a full instruction sheet (based, roughly, upon the style of the Big Deuce instruction sheet), decals, and a lighting kit (Monogram once offered a free-standing lighting kit for model car builders). In sum, this will be a complete kit.
Even without the hyper-detailing required of a model headed for a major competition like the GSL Championship, an out-of-the-box build up of this large scale kit would yield a very authentic model of the famed Predicta.
Box Art
Model
An "out of box" model will be built for the photograph that will appear on the box lid.  That's not where the fun will be, though:  A fully-detailed, contest model worthy of competition at the famed GSL International Scale Vehicle Championship will be built using the basic parts in this faux kit but augmented by a wide array of machined parts.  This model will, to be the best of my efforts, be a precise 1/8-scale replica of the 1963 version of the car.  This model will include ultra-realistic features, too: working door latches, operating bubble top, "working" TV set, remote control lighting for all lite features, working hood latches, a small low-voltage electric engine placed inside the HEMI engine to turn the fan (linked to a computer chip that will mimic Hemi engine sounds when the gas pedal is pushed down), and the like.