December 2016
I'm pleased to tell you that there's been remarkable progress and developments in The Predicta Project. Check out the following details:
First, I've been privileged to enter into a contract with McFarland — the leading independent publishing house of academic and non-fiction books. The full-length book, complete with dozens of color and black and white photos, mechanical illustrations and digital images, will be offered in soft cover format. I've been incredibly pleased to work with Charles Purdue who has been very helpful in answering many questions that I've had. Go here to learn more about McFarland.
Second, the Predicta Project will be the focus of one of the several seminars that will be presented at the twenty-sixth GSL International Scale Vehicle Championship and Convention, to be held next April 27-30, at the Salt Lake City Sheraton hotel. In this seminar, I'll outline the details of the project (including the phantom kits that will be created), the books and other elements of the project that will be announced there. And I'll give away one of the rarest models in the history of the hobby — a built-up "pearl red plastic" Predicta model. Learn more about the most famed scale vehicle championship anywhere.
Third, it's been my pleasure to get acquainted with famed photographer Doug Pizac who has done historic photographic work for a nearly uncounted number of governmental and private entities during his 40 + year career. For more on Doug's incredible background and talents, check out his website. You'll be stunned as I was. Doug's connection to The Predicta Project is that he owns the entire photo library of his uncle, Robert Hegge, who once worked for all of the hot rod and custom car magazines as well as in other capacities. Doug and I had lunch together a few weeks ago, after which he generously offered to digitally clean up his uncle's 1961 photos of the Predicta and to license to me those images for both this website and the Predicta book. Here's a sample of these Predicta images from Roger, as licensed from Pizac Photography.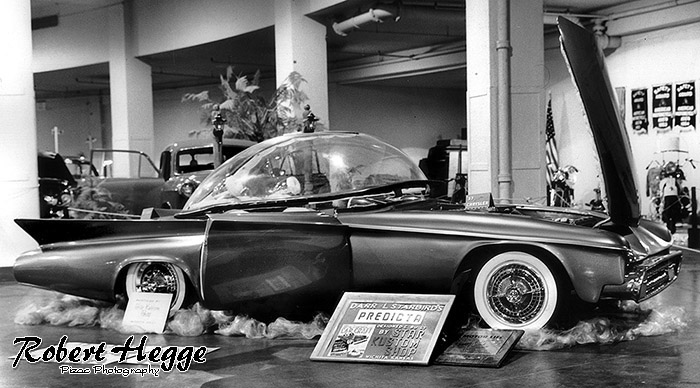 All of Mr. Hegge's photos are used pursuant to a royalty arrangement with Pizac Photography and may not be copied or used in any other venue. Thanks, Doug, for your generous licensing agreement and for reworking your uncle's great historic photographs!
Fourth, dioramist Jim "Hollywood" Fernandez will be generously building a 1/24-scale diorama of Starbird's first (first pic below) where Starbird built the Predicta, the Forcasta (second pic below), the Ultra Truck (third pic below) and several other of his most famous bubble-topped cars.  This diorama will be the setting for a scene from the history of the Predicta — when it was being restyled and rebuilt to promote the Monogram kit. Jim's known world-wide for his incredible and thoughtful dioramas — he's won several of the top awards at the GSL Championships. Jim will be a part of the Predicta Project seminar at GSL-XXVI. Learn more about the schedule of GSL. Or visit the GSL Championship site.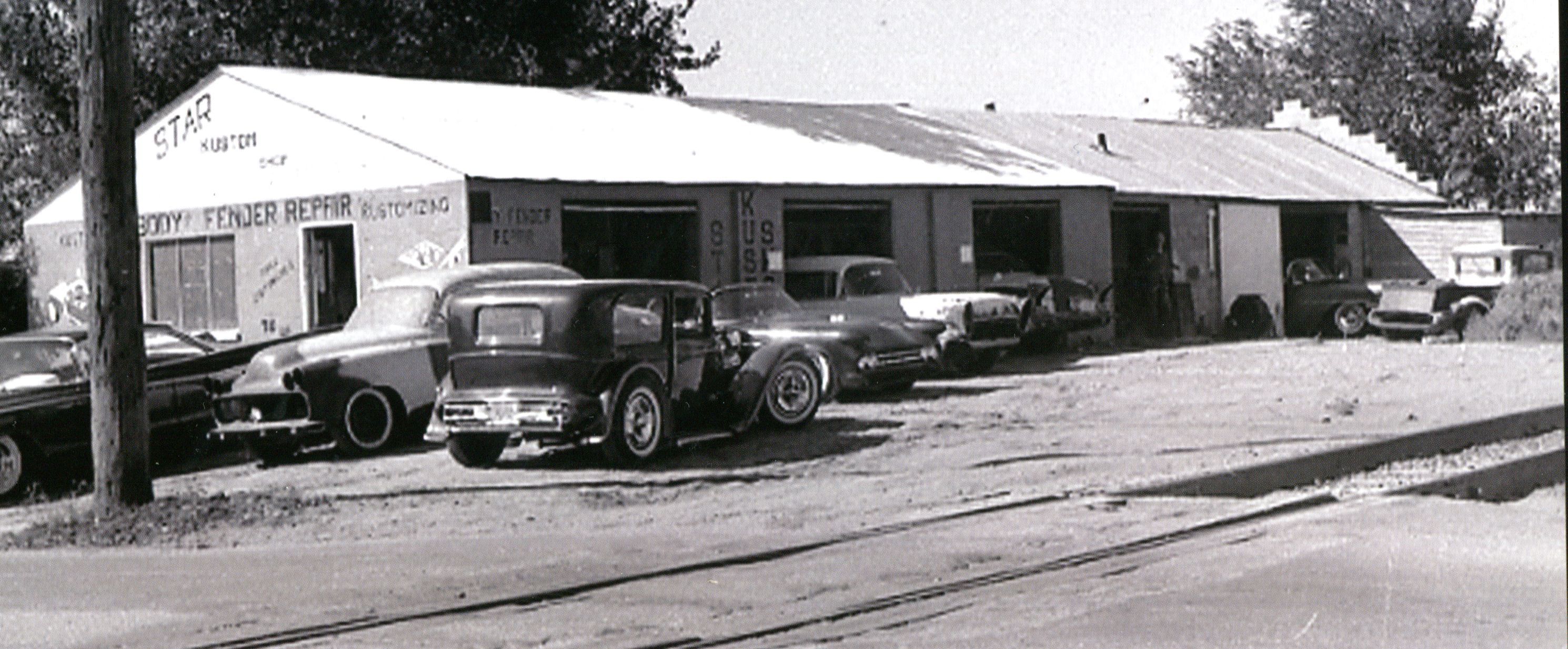 Fifth, well-known automotive illustrator and designer Brad Leisure will be producing several color renderings for The Predicta Project. Check out Brad's work. Brad's work will include the final art for the phantom boxes (based upon Bob Wick's preliminary layouts for the enhanced kit and Big Predicta and the Big Predicta, a painting of the restyled Predicta that will be the focus of the "alternative-history" part of the project, and some other elements, too.  Brad will also be asked to do the color painting of Bob Wick's vision of the future of the car — this Project is nothing if not about scope! — Bob Wick and I have spoken in that past about the ultimate fate of the Predicta.  What if it were discovered in some future era, crashed downslope, by curious auto archaeologists a century or more from now?
Sixth, I'm more than pleased to announce that my decades-long friend and colleague, Bob Wick,  will continue in his role as artistic consultant in this Project.  Bob will prepare the art for the myriad photo-etched parts that will be required for the various models, and he will be the conceptual layout artist for project art.  He's already designed the box art for two of the Phantom Kits and he'll be preparing the art for the many photo-etched brass parts that will be needed to build the multiple parts needed for The Predicta Project. Thanks, Bob, for your dedication and insight!
Seventh, Steve Roullier has joined the Predicta Project team — Steve will be creating the many digital images, and will rescue historic photos that were damaged by the years or defective when taken.  Steve is also working now on helping Predicta Headquarters to discover — through digitized photography – where the problems are with the original Monogram kit so we can create a dimensionally correct body that can be the basis for the several phantom kits that we intend to build.
Here are a couple of his preliminary images where he's superimposed a near-profile image of the real car over the kit body, and an image in which he digitally created, in color, the missing six inches of the front of a full-color photo of the car by importing a bit of the matching black and white image and then matching the color to the rest of the color image – thereby correcting a decades-old error. One way of addressing the badly-inaccurate body (both shapes and dimensions) starts by learning the substantial differences between the kit measurements and those generated from the car. Thanks to Darryl Starbird by taking the several hours to derive the measurements for our project. Go here for more info.
Eighth.  As you'll read about in the Vintage Kits That Never Were page, you'll learn about the incredible array of "what if," or phantom, kits that will be created — along with the book, these projects and accompanying speculative history elements comprise the core of this great Project. With the greatest respect to both Mr. Starbird and Monogram Models, we'll be creating kits that could have been offered in the 1963-64 era, a diorama of Starbird's original shop, and then look far into the future when a wrecked and abandoned Predicta is discovered and restored (and mechanically updated) in a 22nd Century restoration facility.
Ninth, the physical size of all of the eventually completed elements of The Predicta Project requires a venue in which those items can be placed both as the Project is underway and after its completion. We need room for several filing cabinets, two physically large dioramas, art, display cabinets for models built for this project and other elements. For that reason, I am dedicating a well-built 200 square foot building as the host venue for The Predicta Project; in that one area, I'll archive all materials related to the Project. Check out this photo essay of the construction of the building.
With the Predicta Project finally genuinely underway, please check back often. Your comments and suggestions (even well-considered critiques) are always welcomed. You can e-mail me at msgsl@xmission.com but be SURE to put "Predicta" in the subject line.
Mark S. Gustavson, December 27, 2016
October 2016
In response to a note, my friend Luke Karosi, placed in his great traditional custom car magazine Kustoms Illustrated, in which I asked his readership if any of them had any photos of the Predicta. In response, Richard Toonkel and the Jerry Eich Photo Collection sent me some previously unknown photos of the car. These color photos will be used in the book, and are found elsewhere in this site. If you haven't already, subscribe to the first-rate magazine by going here.
July 2016
In the past, the scope of The Predicta Project wasn't well-defined; in fact, the Project was badly disorganized with no clear central theme or plan going forward. Started initially in 2002, this Project has languished for too many years without a clear goal amid shifting objectives and sometimes benign neglect. Irregular updates to the old site occurred, but they did little more than tweak a lot of text and pictures rather than bringing clarity and direction to this Project. There was some website "flash," but there was almost no substantive progress noted except comments about continuing research on my book. It seems I confused updates to the old site to be equivalent to progress on the Project — and that was nonsense. At 63, it's become clear to me that I needed to move forward with this Project that will take a few years to complete — if I want to get it done in my lifetime! Though I'm zen enough (mixed with my Mormon metaphysics) to understand that "it's the journey," I also want to get this Project fully underway so I can fully enjoy the completion of its many elements while still young enough to do so, and to promote to the hobby the skills and techniques. Therefore, I've refocused my thinking on this Project, and have substantially revised every element of this effort except plans for my book (on which I've been working for nearly 4 years!); the book will be the first Project element to be completed. The result of a nearly seven-month review of the whole Predicta Project, including this site, has resulted in a Project program now clearly focused for the first time — all for the purpose of uncovering and exploring the full history of Starbird's remarkable car and the model car kit it spawned. We'll also pursue the creation of a couple of phantom "kit-based" versions of the historic Predicta kit (based upon historic still-born Monogram objectives that were shelved), and we'll speculate on what the car (and another phantom kit) might have been like if Ford had made an irresistible proposal to Starbird upon which Monogram concurrently capitalized. The mixture of the book, the creation of several kits that could have existed (but never did), and at least three sophisticated scale models (and possible three dioramas!) will flesh out this Project. To best honor and describe Darryl Starbird's greatest design effort, I knew that I needed the help of other professionals to assist me to get an organized project launched, developed, and completed. Check out this great list of consultants:
Bob Wick has generously stayed on as a consultant to The Predicta Project. Bob, a noted commercial artist, technical illustrator, and designer has been associated with the Project for years, and will go forward with expanded responsibilities to create and prepare the illustrations for the book as well as other tasks including the preparation of art that will lead to sophisticated photoetched parts. Bob will also design and produce presentation elements for each part of the Project including the printed paper ephemera (kit instructions, adverts, decal sheet design, and so forth) as well as the design of the display materials and settings for this Project. Bob has also created the new logo for our site based upon Darryl's Starbird's original shop logo from the early Sixties, and he has roughed in the draft artwork for the two of the three faux kits we'll be creating. Thanks, Bob, for your many contributions to this Project!
Lynn Koberna has signed up to advise us about the new 3-D technology and how it can be used to help us with this Project. Lynn has joined our team to advise us on the intricacies and opportunities presented by 3-D printing which technology focuses on three-dimensional deposition "printing" of parts based upon digital information contained in CAD files. If cost issues can be addressed, we'll take a serious look at how this new technology can be put to use in this project in creating specific parts. Lynn Koberna is a great source of information on 3-D printing and will to be a valued advisor. Lynn – thanks for your technical insight and advice.
JJ Gladstone will continue to do digital photo work for the Project. In the past, JJ has digitally "cleaned up" some of the photos for the book that also appear on this site and we'll turn to JJ for additional digital help. Thanks, JJ, for your cheerful assistance!
Steve Roullier has recently joined the team to produce the "measurement illustrations" found on this site. His dimensioned photos will be used when I build a correct 1/24-scale body parts! Your help is greatly appreciated, Steve! – only with the correct measurements can an authentic body be built.
With that team in place, and with more time now available to me (I'm going to be semi-retired soon), the following elements of The Predicta Project have been updated and defined:
The Predicta book. My comprehensive book on the history and details on the Predicta has grown because of the discovery of additional photographs including a remarkable trove of images from Darryl and Donna that chronicle the incredible 2007 tear down and full restoration of the car. Nearly 15 years in development, this definitive history book will feature and trace the car from its 1960 construction and debut through the present day, include 10 chapters, more than a hundred footnotes, 14 Appendices and some surprises. Sign up here for future email notifications on the status of the book.
The Kits: 4
Please go to kits page for a full run-down on the kits we'll be creating!
The dioramas
1962-era Starbird shop diorama with scale models of the "under restoration" Predicta and Ultra Truck. In a hoped-for collaboration with famed scale automotive dioramist Don Strong, we're going to replicate in 1/24 scale Starbird's first shop (circa 1962-63) in which the Predicta was restyled for Monogram at the same time that Starbird's Ultra Truck (Monogram Model's kit name: Orange Hauler) was also being built. I'm going to build scale models of the partially-disassembled Predicta, when it was being updated for Monogram and the partially-finished Ultra Truck.
A slot car track diorama that will show the Predicta slot car kit being driven in a futuristic landscape – all as envisioned in the Sixties – against a background of futuristic architecture. 
The models:
Monogram 1/24 Display Model. Using the parts from the Enhanced Kit, a phantom Monogram-assembled/hobby shop display model will be built and placed atop a revised Monogram hobby store promotional box that we'll also create: Monogram, back in the day, built "curbside-level" models for hobby shop owners to place upon special display bases that the model kit company also supplied. Go here to learn more about the problems with the historic kit that we're going to correct.
A Detailed Model of the Predicta. Using the Enhanced Predicta Kit, (plus detailing items) I'll be building a correct, 1963-era model of the car just after Monogram took delivery. This model will feature contest detailing using the better developed parts from this faux kit.